Economy and Federal Debt (2012)
In May 2012, Jefferson Center ran two concurrent Citizen Juries on the Economy and the Federal Debt. Read the in-depth report and guide to the iterative process here.
Jackson County CIR (2014)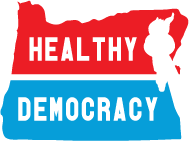 In conjunction with Healthy Democracy, the Jefferson Center helped plan and implement the first county-level Citizens' Initiative Review in the country. The Jackson County CIR brought together 20 voters from across the county to provide trustworthy information to their neighbors in advance of a vote to ban genetically-modified organisms throughout Jackson County. CIR participants were extremely pleased with the opportunity to provide unbiased, thoughtful evidence to their neighbors and peers. Researchers from Colorado State University and Penn State University are conducting a thorough analysis of the impact of this information, sent to voters through mail, on the choices made at the ballot.
Northeast Ohio Climate Engagement Initiative (2014)
Through the Northeast Ohio Climate Engagement Initiative, we connected community members in Northeast Ohio to identify policy priorities related to the changing climate.
Minnesota Historical Society – Inclusion & Community Engagement (2015)
We supported MNHS staff and the History Museum Diversity Fellowsin developing the strategic framework for the creation of the nation's first Department of Inclusion and Community Engagement at MNHS.
Learn about our more recent projects on our Programs & Projects page.
Back to Our History.