Diagnostic error is the failure to establish an accurate and timely explanation of a patient's health issues, or communicate that explanation to the patient. The National Academy of Medicine estimates that 1 in 10 diagnoses are missed, delayed unnecessarily, or wrong, exposing patients to unnecessary risk.
Most proposals to improve diagnostic quality focus only on physicians and healthcare systems; few engage patients in preventing, identifying, and reporting diagnostic error. In conjunction with the Maxwell School of Citizenship and Public Affairs at Syracuse University and the Society to Improve Diagnosis in Medicine (SIDM), we're using Citizens Juries to engage healthcare consumers and professionals in developing informed and practical patient-focused strategies for reducing diagnostic error.
The project features an iterative series of deliberative events. A citizens jury of healthcare consumers was convened for two 3-day sessions in late 2015. This jury recommended strategies patients could pursue to reduce errors in diagnosis, incorporating input from healthcare professionals. They also identified potential obstacles to those strategies and remedies health systems could implement to support productive patient-doctor relationships. Take a look at the recommendations.
A panel of 100 citizens assessed these recommendations in February 2016 for their relevance and feasibility for patients who haven't received education about diagnostic error. SIDM is using the jury recommendations and citizen assessments to initiate policy reform in regional healthcare systems.
The project also uses control groups to test the efficacy of deliberation in improving the quality of patient and practitioner recommendations compared to a control group of similar individuals given access to the same information but tasked with recommending roles on their own, without group deliberation.
If you want to dive into the patient recommendations and our research results, check out our full report: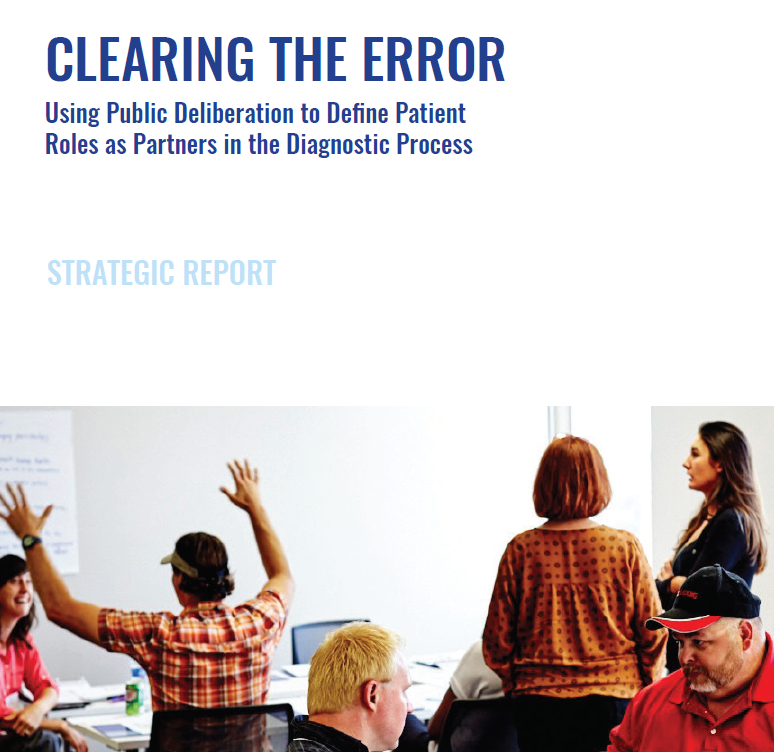 If you'd like to explore the research in more detail, review the full reports from Dr. Tina Nabatchi at Syracuse University:
Report 1: Healthcare Consumer Deliberative Events in 2015
Report 2: Healthcare Consumer Large Event in 2016
Report 3: All Healthcare Consumer Events
Report 4: Healthcare Professional Events 2016-17
This project has been recognized as Research Project of the Year by IAP2 USA and IAP2 International.
This project is funded by a grant from the Agency for Healthcare Research and Quality, a division of the U.S. Department of Health and Human Services.