The Jefferson Center and the Minneapolis Community & Technical College co-sponsored a student-led forum for the 2014 Minnesota Secretary of State election this past Tuesday. In sharp contrast with many debates in this Minnesota election cycle, Tuesday night's candidate forum prompted substantive discussion of the differences in policy and vision among the candidates, rather than the all-too-common mudslinging and attacks. The three candidates—Bob Helland (I), Dan Severson (R), and Steve Simon (DFL)—spoke for nearly two hours in front of a packed audience of college students and community members as they answered questions generated by MCTC students through in-class deliberation. In addition to their opening and closing remarks, the candidates answered six questions:
1. The Minnesota Secretary of State currently provides election-related information. In other U.S. states, the Secretary of State provides neutral information about candidates. Do you believe that the Secretary of State has a duty to ensure voters are informed about candidates and their positions prior to Election Day? If so, how would you go about doing this?
2. How would you support the re-enfranchisement of individuals with felony convictions?
3. Are you concerned with voter integrity and fraud in Minnesota? If so, what steps would you support to identify and eliminate voter fraud?
4. What strategies would you put in place to educate and encourage young or newly eligible voters who are unfamiliar with the process? What resources would be required?
5. Do you believe that the current voter registration system in Minnesota has room for improvement? If so, how would you propose improving this system?
6. What do you consider the biggest challenge or opportunity facing you if you were to be elected?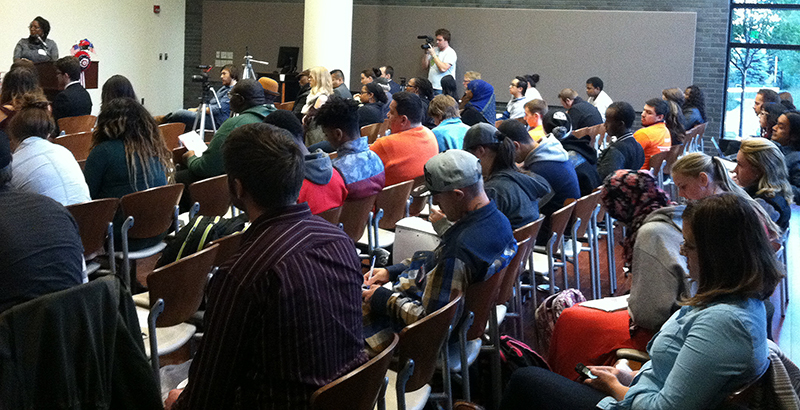 Voter Information
All candidates agreed that the Secretary of State has a duty to reach out to voters, especially young people and new immigrants, to educate individuals about the voting process and make information about candidates accessible through the Secretary of State. Helland and Severson explicitly supported developing mobile platforms for outreach, while Simon committed to making the Office more "future-oriented." Helland promised to more frequently update information available through the Secretary of State. Simon outlined his plan for combating demographic disparities in voter turnout by ensuring every voter knows about the voting processes available to them—especially no-excuse absentee voting, online registration, and same-day registration—by making information available in more languages and in more ways. Severson reinforced the need for "relational" outreach to communities across the state.
Voter Fraud
Simon emphasized his commitment to expand access to the polls and strengthen the right to vote, worrying that restrictions to combat fraud were often a "cure worse than the disease." Helland termed himself the "technology candidate," prioritizing updated and interconnected voter databases as the best way to prevent fraud. Severson most consistently expressed concern for the integrity of Minnesota's elections, citing over 6,200 alleged cases of fraud in Minnesota's 2008 election. He worried that same-day registration, especially through vouching, was a "vulnerability in the system," proposing an audit to identify past instances of fraud. Severson also signaled support for an "express lane" for pre-registered voters with IDs, a policy Simon later characterized as "separate but equal."
Getting out the Vote
Simon repeatedly cited his work in the legislature to adopt no-excuse absentee voting and online registration as critical to promoting greater access to the polls. He outlined support for early voting and shifting voter registration processes at the DMV to be opt-out, rather than opt-in. Helland disagreed that the Secretary of State should insert himself into discussions of legislative reform to election processes, asserting that he would focus on updating the existing systems to make them operate more smoothly. Severson agreed that early voting (but no earlier than 2 weeks before the election) was a good idea, but that legislation was less important than outreach. Improving access to the polls, he says, requires the Secretary of State to serve as an ambassador to communities that aren't turning out by reinforcing the civic duty of citizens to vote and to participate in the political system, citing his recent work at the Minority Liberty Alliance.
Business Services
While much of the discussion focused on elections, the candidates did touch on the duties of the Office with respect to businesses and nonprofits. Helland said his primary reason for running was to modernize and streamline business services and promote greater collaboration across state departments. Severson proposed recruiting a cohort of former business owners to mentor new entrepreneurs and identify barriers to developing businesses in Minnesota. He also opposed the centralization of universal commercial code filings in St. Paul, supporting county control of that process. Simon said the Office was not a "filing cabinet," and that there was a serious need to update the "web portal" for businesses to improve access to services and information.
We're thankful to the candidates for participating and committing to quality, informative discussion. The forum not only helped introduce voters to candidate positions, but also helped educate young voters about the role of the Secretary of State, including especially what the Office can and can't do. At the Jefferson Center, we aim to provide citizens with the high-quality, unbiased information they need when deciding their position on a particular candidate or policy. This forum, putting students at the center of political discussions, contributes to that goal.
You can watch the full forum on YouTube.